Helping clients grow their hair out long while maintaining a healthy shine is a pretty typical job for many stylists. But usually, those clients are female.
Rae Knudson, senior stylist, has a 64-year-old client who has been coming to see her for the last two years with the goal of growing his hair out to achieve a "biker guy" look.
"He's engaged and wanted this look for his wedding," Knudson says. "But after a year of growing it out, he comes in and tells me he has leukemia and wants to shave all his hair off before chemo."
But there was a catch—he wanted to save it. "He had just spent a year growing it out and really wanted to keep it," she says. "So I shaved his hair off, picked it all up off the ground, put it in a plastic bag and then paid for his haircut."
Knudson says the gesture wasn't out of pity though. "He didn't want me to pay for the cut, but it was my gift to him for being a loyal client," she says.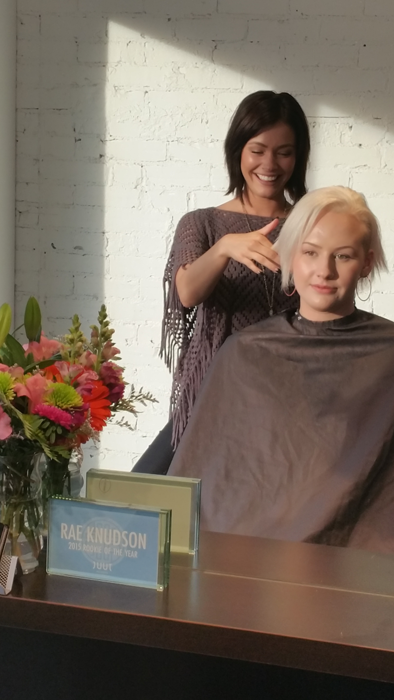 Just another moment in the life of a Daymaker. Since Knudson joined Juut two and a half years ago, she has learned a lot about the power of a positive attitude.
"The first couple weeks here were very intense when I went through training," she says. "But I got in the groove and now I come to work and it's not work. You might think you work for a really good company, but then you set foot in this environment and it's just different."
No matter what kind of day you're having, Knudson says you forget about it at work when you are surrounded by positive, complimentary co-workers.
"Before work, we sit in a circle and call ourselves present," she says. "Then you answer a question like: 'What are you thankful for today?'—that's what you do before work!"
All of these special exercises and training have had a profound effect on Knudson's daily interactions with clients.
"I have a lot more patience. I feel like every client is my first client of the day," she says. "If I have a really long day and I have one more client, I go clear my head so this next person has everything they are coming here for, plus more."
Just like she's present before work every day with her co-workers, Knudson does the same for her clients.
"Sometimes I'll be so present with a client that I forgot the client right before them," she says. "People always ask how I remember details about their lives, and it's because I care about them."
Even if a client brings negativity to the chair, Knudson doesn't let it affect her own attitude. "You just have to realize that's who they are and let them be negative."
To maintain her own positivity, Knudson follows a simple rule: "Be yourself. But be your happy self," she says. "If you're trying to be someone you're not, it will cause a lot of negative energy."