From tacky sweater parties to gorgeous galas, it's the most wonderful time of the year, filled with fabulously fun days and nights. But while the magic and music may excite your senses, don't let getting holiday-event-ready overwhelm you.
We sat down with veteran Juut hairstylist Paige Palma and makeup artist/educator Taylor Hanson for tips on turning your stylish daytime hair and makeup into stunning evening styles. Read on for their easy tips and tricks.
DOWN AND UNDONE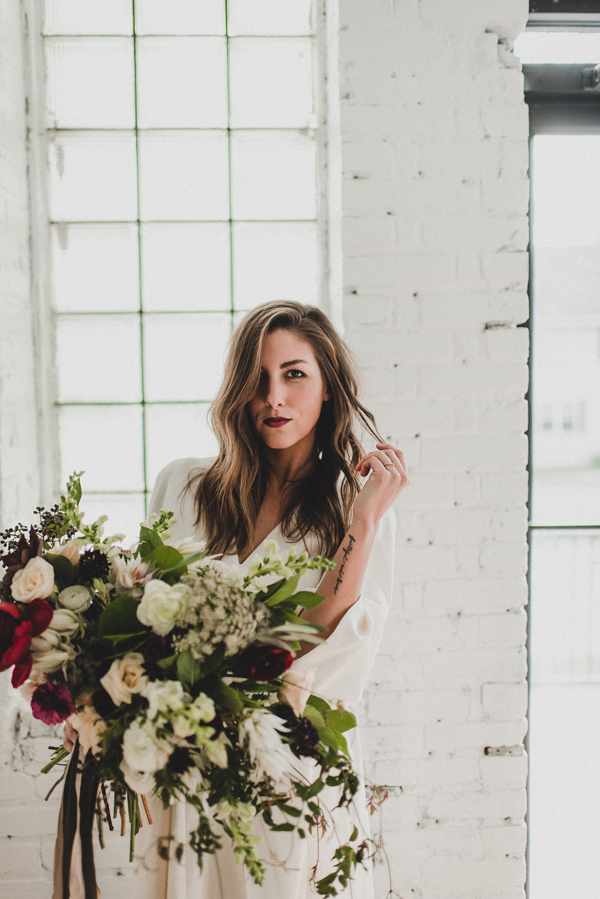 Source: Paige Palma
A #protip from Paige: "Treat your hair like an accessory—you want it to complement your entire outfit—not steal the show." Her philosophy is to enhance natural beauty. And when it comes to hair, she loves the undone look.
Reason 987 we are obsessed with the lived-in look: it transitions from effortlessly beautiful during the day to a simply chic evening look with minimal touch-ups. Paige recommends adding a soft curl and texture during the day. She uses Aveda's new Texture Tonic to perfect that untouched texture. Made from sugarcane and saltwater, it adds a defined piece-y look while maintaining that soft, touchable feel.
To take this look to the next level for the night, spend just a few minutes pumping up the volume by adding even more Texture Tonic and intensifying your curl. For those soft, messy waves, Paige says bump up a size in your curling iron or go with a flat iron. She also recommends leaving the last inch to inch and a half uncurled.
SOFT AND SWEPT-BACK
Another go-to style is the soft, swept-back look. The low ponytail is a great example because it's simple, yet elegant, and complements any ensemble. Because she's a fan of messy chic, Paige loves to leave a few strands loose, framing the face. Plus, it adds a little bit of a playful vibe. Whether you leave your hair textured and down during the day and pin it back at night or throw it up in that loose look first thing—it's easy to do yourself.
First, add a little volume and texture with Texture Tonic. For a softer look, use a brush to sweep your hair back then fasten your low pony at the nape of your neck with a hair tie, keeping it loose. For a little bit of added glam, dress it up with a ribbon or clasp. Keep that look lasting all night (while staying touchably soft) with Aveda's Air Control Hair Spray. Bonus: it doubles as a perfume and adds some extra shine.
WHATEVER YOU DO—DON'T SKIP SKIN PREP
It's no surprise Taylor's passion is helping people feel beautiful in their own skin.
Whether it's daytime or nightwear, when it comes to your makeup, Taylor says it starts with skin prep. In fact, she says she starts every guest's makeup appointment with a complimentary skin care consultation because "you can't create beautiful makeup without great skin prep."
One of her must-haves for beautiful looking skin is Tulasara Renew Morning Creme, which you can find at any of our JUUT Salon Spa locations from Minneapolis to Scottsdale to Tempe to Palo Alto. Inspired by your morning yoga routine, it instantly renews the look of your skin by brightening, smoothing fine lines and protecting against environmental aggressors.
SECRETS OF A MAKEUP MASTER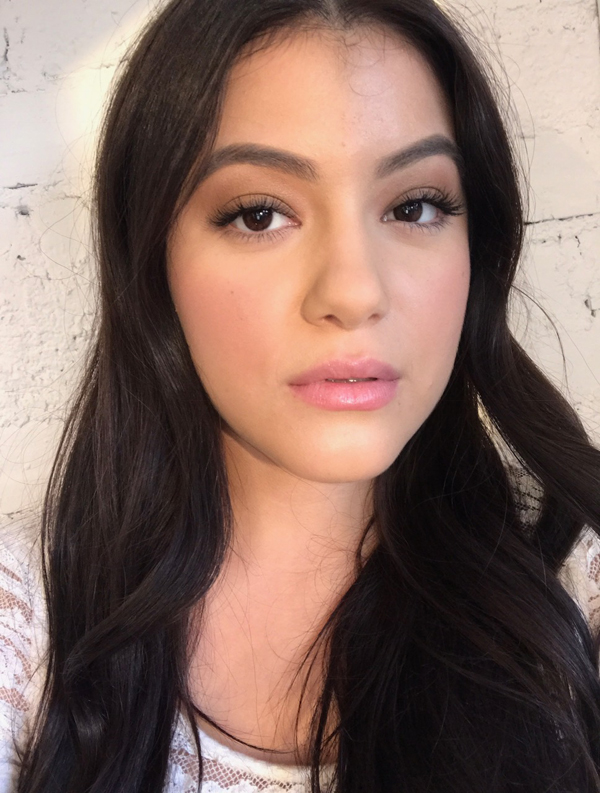 A fresh-faced daywear look.
Source: Taylor Hanson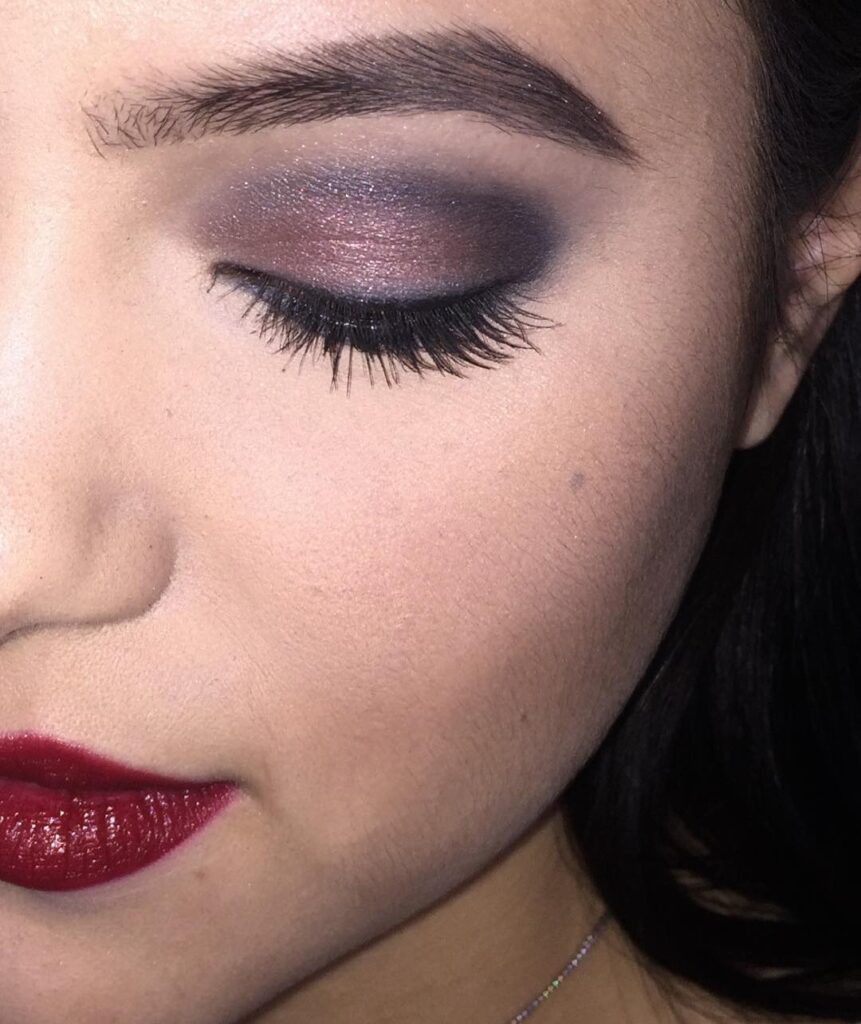 Add a little drama for the evening.
Source: Taylor Hanson Instagram
Taylor's advice for a glammed-up face on the go: focus on your favorite feature. If you aren't sure which facial feature is your favorite, stare at yourself in the mirror and notice where your eye wanders. If your eyes are your focal point, you might want to do a smoky eye and winged liner. Or maybe you love your lips and want to go bright and bold.
Taylor, who assists Janell Geason, Aveda Global Artistic Director, Makeup, at New York Fashion Week every season, says to go lighter for daywear and add the drama at night. She does suggest starting the day with fuller coverage foundation, a little mascara, and a light, shimmery eyeshadow to make the transition quicker. Then, she says, you can take a few minutes to intensify that look (focusing on that one feature.)
A few other tips and tricks from Taylor:
Don't be afraid of your brows—"the bigger the better."
For next-level winged liner—look at the shape of your eye while it's open. Carve out that shape with a pencil and then go over that with your shadow.
Create a bold lip that lasts all night by using a colorless lip liner as a primer. Apply a creamy berry or red color for drama and place a little gloss in the center of your lips.
Forget the rules—when it comes to choosing your perfect colors, don't focus too much on warm and cool skin tones. Play around until you find the ones you love.
Whether you need help perfecting your skin prep regimen or want a fresh color and cut before the party, there's still a little time left to book those last-minute appointments, and as the best salons in Minneapolis, Scottsdale, Tempe and Palo Alto, we're here to help. Give us a call or book online.