Stephanie Domrose, master stylist and makeup artist in Juut's Wayzata location, has a client who comes in every six months for a haircut. The cut is basic and simple for Domrose to execute, and the guest has been wearing the same style for years.
Recently, Domrose shared some of her personal ambitions to be a life coach and empower women through beauty with her client.
"Her response was shocking to me," Domrose says. "She told me the hour-long conversations we had every six months had changed her life."
It started with a book recommendation and sharing experiences from her own life. These revelations from Domrose helped her client focus on her own dreams.
"I was just being authentic about where I'm at and sharing with her," Domrose says. "I also took a moment to recognize the changes going on in her life every time she came in. Being present with her had a big impact. She has a dream of starting her own business and living overseas, and now she's taking the steps to make it happen."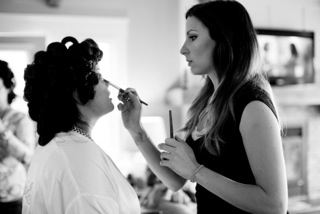 Interacting with clients in a genuine way has always come naturally to Domrose.
"It's not someone I am only at work, and then am someone different outside of work," she says. "The company attracts people who have intentions that align with Daymaking—people who will interact with clients with service, love and gratitude."
Domrose says it's all about people at Juut—not business. "In the end, the client is the one deciding if I'm a Daymaker—it's not me deciding for them."
But to be that positive person every day, Domrose says, taking care of her own life takes number-one priority.
"I can't be 100 percent authentic unless I'm meeting my own needs and accenting my own beauty," she says. "Putting yourself together is part of building trust with people. If you don't care about yourself, how will it look to your guest?"
Taking care of herself allows Domrose to always be level and kind with clients, no matter what kind of energy they may be putting out that day.
And after 10 years with Juut, there are three pieces of advice she says will help any new stylist adapt to the Juut culture.
"The first is to listen and keep an open mind—and that goes for clients and co-workers," she says. "We're never done learning from each other and growing and changing. The moment we close our minds is the moment we stop fully living and loving our guests and co-workers."
Her second piece of advice is to get involved. "Go to classes, connect with co-workers, bring food to potlucks—we all have much to share, be a part of it."
And finally, Domrose says to take care of yourself. "It's easy to misconstrue being a Daymaker with sacrificing time and energy for the people in your chair or co-workers," she says. "But the intention gets really blurry and doesn't feel the same if you aren't taking care of yourself—you'll burn out."