We've found 'em! Juuties were everywhere this past week as we visited our Uptown location. So, what is a Juutie?  We like to think of Juuties as people with a keen eye for fashion and the talent to successfully wear trends while integrating personal style – all the while possessing the personality and demeanor to make someone's day more beautiful.  In short, fashionista + daymaker = juutie.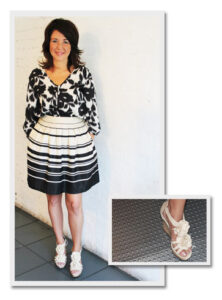 Cortney was the first Juutie we spotted hitting a complete home-run in the area of mixing patterns and pulling it off!
Top + Skirt: Francesca's Boutique
Shoes: Madden Girl by Steve Madden available at Zappos
Cortney is a New stylist at Juut in Uptown. She has a passion for the work she does and loves being able to help her guests find their own unique style. Cortney's favorite hairstyles to perform can be worn in every day life. Her career as become a large part of who she is – and has been a wonderful learning and growing experience. Cortney's style is free flowing. She creates outfits to fit her personality and adores if those outfits happen to be comfortable. She has an eye for successfully mixing and matching patterns, and loves to top off an ensemble with cute heels. For fall, Cortney is looking forward to adding big curls to her own hairstyle and pairing that soft look with tall fall boots for an extra cozy, yet still fashionable creation.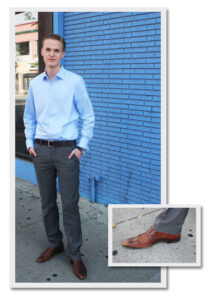 Jay's effortlessly cool look also grabbed our attention! His polished, classic look, along with his ever-so trendypompadour was something we needed to share!
Shirt + Belt: Banana Republic
Pants: H&M
Wingtip Shoes: DSW
Jay is also a New Stylist at Juut in Uptown. Cutting and styling hair is an art form that fully entertains his need for creative and logical expression. His style rules are simple: its gotta look good and fit well. Moving into fall and winter, Jay is looking forward to wearing jackets with military inspiration – double breasted, earth tones, slim fit, notched lapels.

"All in all, less is more, theme is key, and you have to fit your character."    -Jay