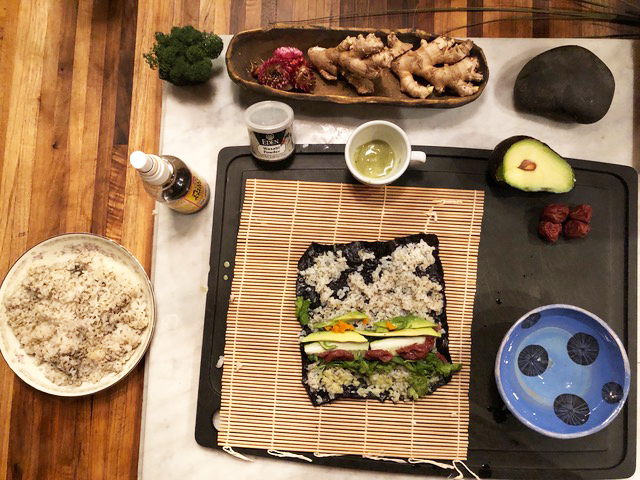 SUSHI
By Charlie Wagner, Director of Wellness
Tools needed: Bamboo roller
Ingredients:
Seaweed paper
Wasabi (fresh or powdered)
Umeboshi (whole or paste)
Sushi rice
Ghee
Carrots
Zucchini
Collards
Dried herbs
Sprouts
Sushi grade fish (fresh)
Directions:
In pressure cooker, start by making your sushi rice. The best ratio I've found is 2:1 … 2 parts water to 1-part rice. Cook for 6 minutes once the pressure cooker has been brought up to high pressure and let come down naturally. Your rice will be stunning and perfectly sticky every time.
In a new pan, add ghee and dried herbs and let them blend the flavors by cooking them together for a minute or two. Then add carrots, zucchini and collards until soft. Set up your station with a warm bowl of water (for your fingers). The bamboo roller is a simple rectangular piece of little bamboo sticks to help make it easier to roll your sushi.
I lay my seaweed paper on the bamboo roller on a cutting board and have it close to me. Then I add my rice. I get my fingers wet first and spread the rice easily over all the seaweed paper, just a thin layer. Next I dip my index finger into the umeboshi paste and swipe a line of it at the top paper and then I do the same with wasabi paste one thin line across the top of seaweed paper.
Next I add a small layer of veggies and sprouts and maybe fish. I start to roll it slowly tucking all the veggies into the paper and gently rolling bamboo roller over the veggies. I get a tight little roll and give it a nice squeeze then continue rolling until finished. This sounds more complicated than it is. The great thing is the if it doesn't work out just wrap it together and make a hand roll and eat it.
It will be fabulous either way!