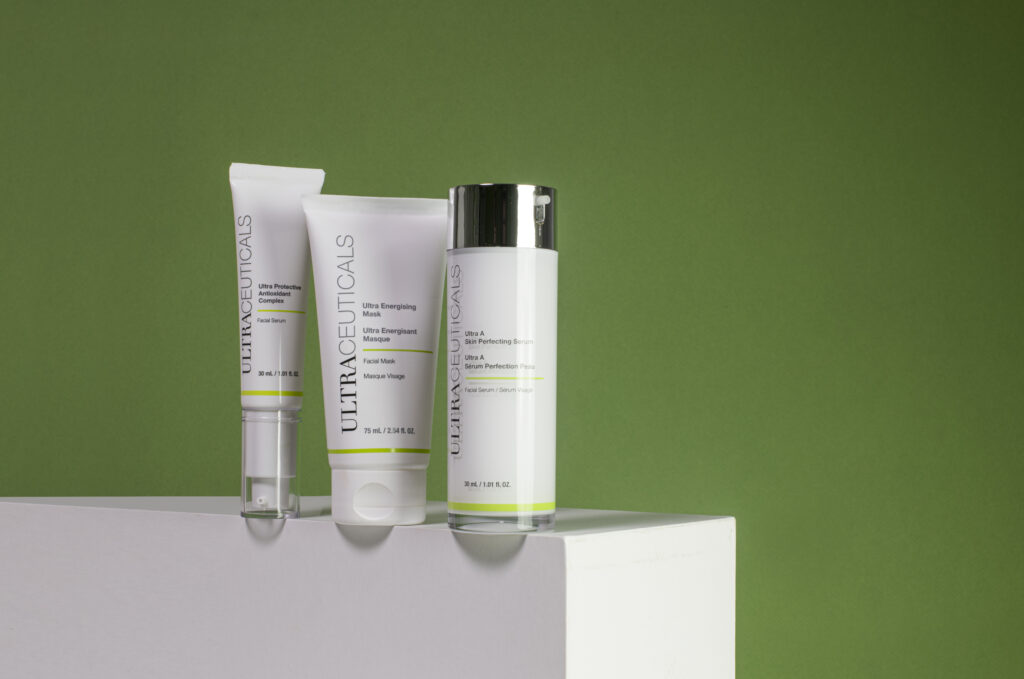 "I have a renewed sense of self-confidence and the desire to wear little to no makeup."
"I get compliments often from friends, clients, and family on my skin."
"I have NEVER been so pleased, happy, and confident in my skin since I started using Ultraceuticals just seven months ago!"
Meet Angie
My name is Angie. I have been an esthetician for 13 years with JUUT and the quotes above are thoughts that run through my mind frequently now. Less than a year ago I sat in class learning about a new skincare line called Ultraceuticals.
A phrase from the Ultraceuticals mission statement reads, "to empower everyone around the world with real skincare, and LIFE CHANGING RESULTS." This left me with excitement to dive in!
When it comes to skin, who doesn't want something as dramatic as life changing results?!
I continued to learn about Ultraceuticals and discovered that they are cruelty-free (yay!) and Australian made. Having heard that the conditions of Australian sun are the harshest in the world, I was even more eager to explore the effectiveness of these products and treatments on my own skin. Like, sign me up!
While it was not the Australian sun, as a high schooler, I had a love for tanning beds and sun bathing with baby oil (forget you ever read that!). That combined with growing older and a reduction in collagen production has resulted in my main skin concerns: a few fine lines and pigmentation.
Knowing what I did about Ultraceuticals and wanting to experiment a bit on myself, I committed to a plan. I had never done any sort of peel so this was a whole world of new for me!
My Skincare Journey
I embarked on a series of three lactic acid peels scheduled two weeks apart from one another. I had also learned the importance of supporting the in-salon treatments with the at-home skincare products and started that regimen at the same time.
After using the baseline products (cleanser, moisturizer, sunscreen), I introduced two Ultraceuticals corrective products over a period of three months to specifically address my concerns of ageing and pigmentation. I was dedicated, faithful to my products, and did not skip routine.
As the weeks went on, I was feeling proud to invest in my skin, while also being witness to an amazing transformation.
Let me tell you with so much happiness, "These products deliver dramatic, visible results!"
In full honestly and with great joy, I can stand here and say that my skin has never looked or felt more radiant and youthful! I feel a new sense of confidence and passion for this product line that I did not know existed. It has been truly life changing!
If you're like me and never ventured into the world of peels, I want to share what I've learned to help you determine if this might also be the route for you and your skin.
So, Why Peel?
Peels are composed of natural acids that help shed the top layers of our skin that are dull and damaged. If you experience dryness or dehydration, sun damage, lack of elasticity, or congestion, a peel could immensely help on your journey to healthy, radiant skin. We currently offer three different peels and one Ultraceuticals facial to address specific needs.
Mandelic Acid Peel: Mattify and Clear
This peel is Alpha Hydroxy Acid (AHA) in its natural source derived from bitter almonds. AHAs are designed to provide skin clarity and a deep cleanse. It also helps to absorb excess oil. Wonderful if your skin is oily or congested!
Lactic Acid Peel: Hydrate and Firm
Alpha Hydroxy Acid (AHA) that is in its natural source is derived from fermented sugar and what makes up the lactic acid peel. It's designed to increase hydration and provide firmer looking skin. If your skin is normal to dry, you have early signs of ageing including fine lines, wrinkles, and discoloration due to sun damage, this is the peel for you.
Brightening Accelerator Mask: Radiance and Glow
This mask has it all: AHAs, BHAs, Salicylic Acid, and Niacinamide. Skin that's lacking vitality, has discoloration due to sun damage, is dry or oily can all benefit from this mask.
Ultraceuticals Signature Treatment
This 45 minute facial is the easiest, most gentle entry into Ultraceuticals and suitable for all skin types.
With Love
My fellow estheticians and I are eager to work together to help you fall in love with your skin. Come in today for a free consultation and get to know us and Ultraceuticals a bit more.
With much love and excitement,
Angie
Master Esthetician, Juut Salonspa Wayzata