As summer comes to an end, we are looking forward to embracing cold weather, hot drinks, and Autumn Winter trends. We sat down with Master Stylist, Woody Theis, for the latest trend report from the runways. We are excited to share Autumn Winter 2021 with you!
The 80's & 90's Are Back
We're seeing the reemergence of the 90's bob as well as the French bob cut to the jawline. This season's pixie is about opening up the face and has shorter fringe. With shags this season, we're seeing a narrower silhouette with an emphasis on natural texture.
Regarding hair color, "atomic blonde" is a sure way to make a statement, playing into the glam theme that's popping up everywhere. Another gorgeous color trend is soft dimensions which create an easy lived-in look. These dimensions will keep you looking like you have just gone on holiday through the cold months.
Makeup Must Haves
In makeup this season, there's a nod to the 1980's which was alluded to from makeup to silhouettes on the runway. There's a big emphasis on glam and color from liners to glitter on the eyes. If something bright color or shimmer is not your thing you are in luck because the smokey eye is making a comeback! With masks not going away, eye makeup is a focal point that can elevate any look.
A Perfect Pair
This trend season was created when much of the world saw the pandemic slowing and jumped at bold gestures of glamour and partying at the center. You can be sure that another wave of the virus will not stop us from dressing up even if we have no where to go! "This season is all about glamour, but comfort continues to be at the forefront," notes Woody. Joy and comfort! 
Finding the balance between glam and comfort is easier than it sounds. Remember our 2020 sweatsuits? They're not gone completely. Look for polished colorful sets with a teddy bear-like texture as a go-to accomplishing luxury and comfort. Along with the emergence of luxe sets and cozy fabrics, we are seeing oversized staple pieces reentering the chat. Thats right, we've said it before and will say it again … the 1980's are back and ready to play.
Oversized was a big buzzword this year, giving strong 80's vibes across many designer runways. There were also nods to the 80's with bright, bold pops of color, leaning into the elements of play and joy. Within the oversized trend we see blazers, pleated pants, and sweaters, all paying ohmage to the era that made them. We are excited about this one for layering and elevating any outfit.
Standing Tall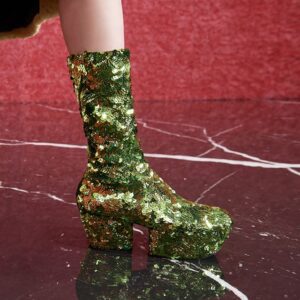 Shoes are always one of the most exciting ways to complete an outfit and you might as well stand tall! For this season, utilitarian boots are central, though a variety of boots were seen on the runways. From bold, sequin platform boots to riding boots and even the appearance of hiking boots, comfort remained clear and important for the season ahead.
So, whether you are more glam sequins, comfortable chic, or a blend of both, there is sure to be a trend that will speak to you.