Step 1: Start by prepping your skin with a moisturizer, and your eyelids with a primer. Use a white eyeliner to fill in your bottom lash line and cover your bottom lashes, bringing the white down to make your eyes look larger and more doll-like.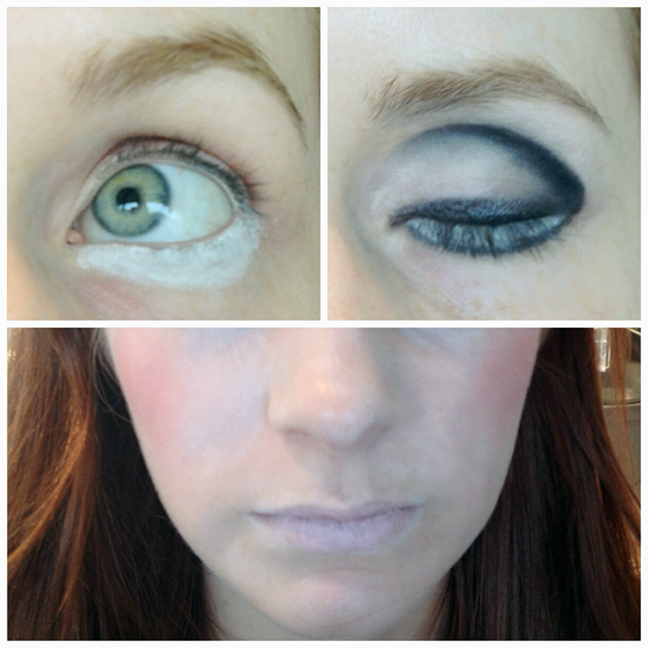 Step 2: Using a black eyeliner, line the edge of the white, creating a false lower lash line. Use a q-tip with makeup remover to help you perfect the line, if needed. Line the top of your lid with black liner, and then fill in the crease of your eye with black eyeshadow.
Step 3: Use white wet makeup to get the porcelain skin look. Add water to your brush or sponge, and apply it evenly all over your face, including over your brows and lips. Set your makeup with a translucent powder, or a white eye powder shadow.  Use a pink blush to add soft circles to the apples of your cheeks.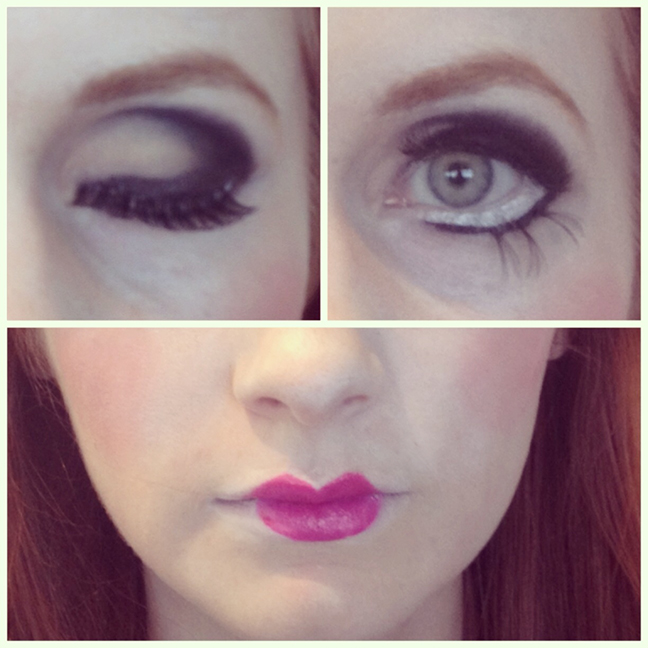 Step 4: Blend the black shadow into the crease, and soften it with a cream colored eyeshadow over the rest of the lid. Highlight the brow with the same color. Fill in the brow to create a nice high arch. Apply a full strip of false lashes (we used "Wispies").
Step 5: Finish your doll eyes by adding 3 individual lashes, spaced evenly apart, on the bottom "lash line" you created previously with eyeliner.
Step 6: Create small, pouty lip by drawing it in with a bright pink lipstick. Using a lip brush, trace the cupid's bow of your lip, extend it a little past your natural lip line. Keep the shape within the middle of your lip, drawing it down a little past your bottom lip line, as shown.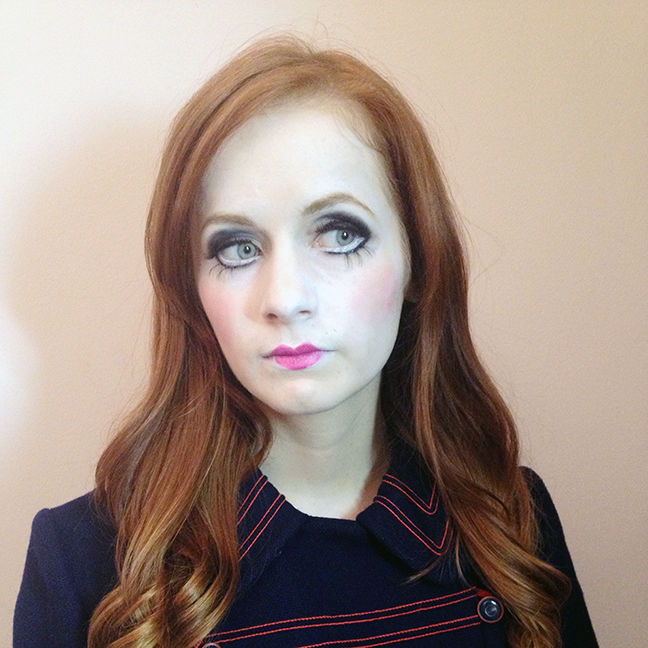 Doll Makeup tutorial by Jasmine D., former Juut Salonspa Roseville Makeup Artist Jasmine D. who recently moved out of state. We will miss you Jasmine!
Give us a call to see what our makeup artists can do for you. In Minnesota, come to a JUUT Salon Spa in downtown Minneapolis, Uptown Minneapolis, Edina, Roseville, Wayzata, St. Paul or Woodbury.
In the Phoenix area, you have two JUUT salons to choose from, one in downtown Tempe and one in Scottsdale – in the Shops at Hilton Village.
If you're in Palo Alto, you can visit our salon at University & Ramona.