While we're in the business of beauty, healthy eating is at the forefront of our everyday life. It's nourishing, restorative and promotes internal beauty—and best of all, it doesn't have to be complicated. In Ayurveda, it is said that we only need five foods to stay alive: wheat, rice, ghee, milk and mung. It's really that simple. 
The following recipes, compiled by our very own Charlie Wagner, are filled with simple, healthy ingredients to nourish your body and share with others. They won't take you much time at all, so you can quickly get back to what matters most in your life after your delicious, wholesome meal.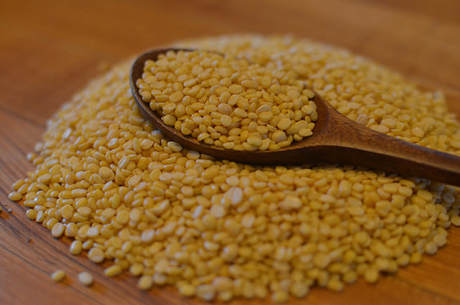 Source: Hale Pule Ayurveda & Yoga
When I feel out of sorts, this is my go-to food to get rebalanced and grounded. I eat it before and after every trip and during times of stress. I find myself craving it regularly because it feels so good and nourishing to my body. – Charlie
HOW TO COOK SPLIT MUNG
By Myra Lewin, Charlie's teacher
Split mung (also known as dhal), is easy to digest, nourishing and, since it doesn't require soaking, is a simple choice suited for every day. Split mung calms all doshas (energies believed to circulate in the body), so it is wise to have plenty on hand when you're feeding a crowd.
Add oil or ghee to a pan over medium heat.
Then, add salt.
Next, add whole spices and simmer until the aroma comes up.
Next, add spice powders and fresh herbs and simmer until the aroma comes up.
Add split mung, stir to coat and simmer a few minutes.
Cover with water and cook.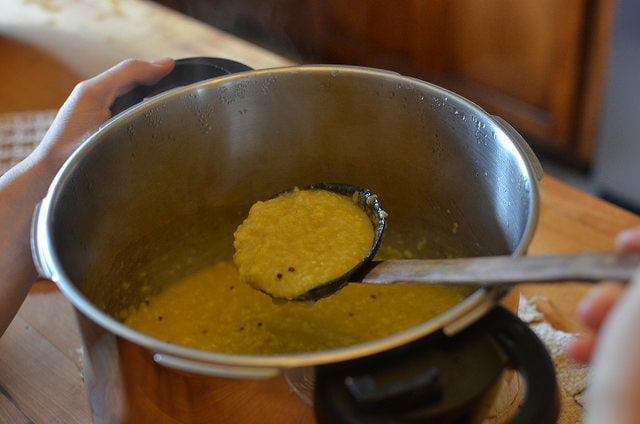 Source: Hale Pule Ayurveda & Yoga
THE INCREDIBLE VERSATILITY OF SPLIT MUNG
The technique for cooking split mung is the same no matter what spices you're using.
Tip: Removing the skin and splitting this legume in half makes split mung fast to cook and easy to digest. In a pinch, substitute whole mung for split, but soak for at least eight hours and cook for a bit longer.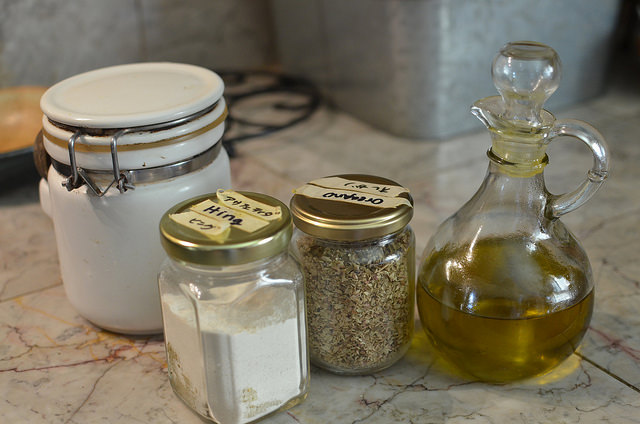 Source: Hale Pule Ayurveda & Yoga
Below, you'll find various ways to prepare and serve split mung:
GENOA DHAL
Serves 2
2 tsp. olive oil
⅛ tsp. mineral salt
4-6 leaves Italian basil, chopped
¼ tsp. dried oregano
⅛ tsp. asafoetida (a powerful digestive spice to break down the proteins in legumes)
¼ cup split mung beans 
½ to ¾ cup water (less for a thicker version, more for a soupy version)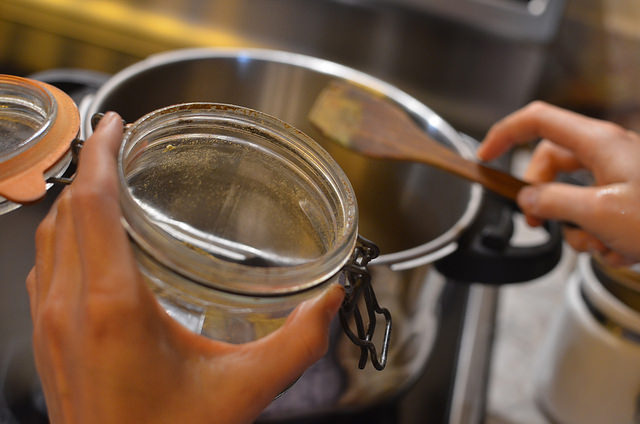 Source: Hale Pule Ayurveda & Yoga
DELHI DHAL
Serves 2
2 tsp. ghee
⅛ tsp. mineral salt
1 tsp. grated fresh ginger
⅛ tsp. mustard seed
¼ tsp. turmeric powder
½ tsp. cumin powder
¼ tsp coriander powder
¼ cup split mung beans
½ to ¾ cup water (less for a thicker version, more for a soupy version)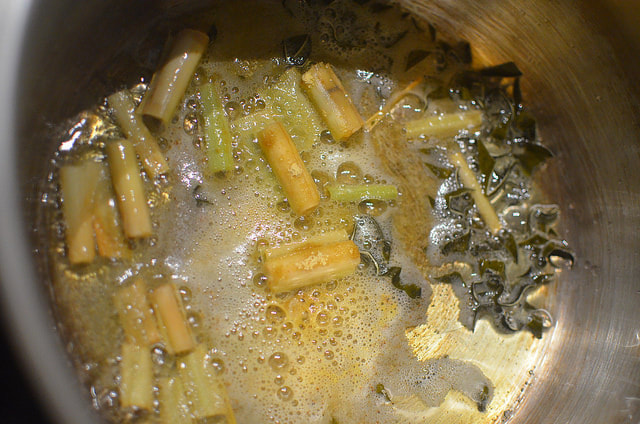 Source: Hale Pule Ayurveda & Yoga
HO CHI MINH DHAL
Serves 2
1 Tbsp. sesame oil
⅛ tsp. mineral salt
2 small strips kombu (edible kelp widely eaten in East Asia, also used to make kombucha)
1 ½ tsp. freshly chopped ginger
3 thumb-length pieces of lemongrass
¼ tsp. fenugreek (seeds to aid digestive problems and inflammation)
¼ cup split mung beans
½ to ¾ cup water (less for a thicker version, more for a soupy version)
HOW TO COOK THEM ALL:
Warm the oil in a pressure cooker or a pot. Add the salt and spices, and cook until the aroma comes up to meet you (about 1 to 2 minutes). Add the split mung and stir to coat, simmering for 1 to 2 minutes more. Add the amount of water you desire, and cover. 
If you are using a pressure cooker, bring to pressure and turn the heat to low. Cook at pressure for 16 to 18 minutes. If you are using a regular pot, bring to a boil and turn the heat to low. Simmer for about 35 minutes until the split mung turns into a soupy consistency (you may need to add more boiling water, so keep an eye on the process so that it doesn't dry out).  
MORE OF CHARLIE WAGNER'S HEALTHY PICKS:
PALAK PANEER SPINACH WITH CHEESE
By Ismail Merchants in Passionate Meals
1.5 lbs. fresh spinach
Paneer from 4 cups milk
Sunflower oil for frying
6 Tbsp. butter
1 small onion, peeled and finely chopped
½ tsp. cumin seeds
2 Garlic cloves, peeled and crushed
1-inch piece fresh ginger root, peeled and grated
¼ tsp. ground red pepper
½ tsp. ground black pepper
1 tsp. salt
Pinch of turmeric
Wash spinach well. Cook in a saucepan with ½ cup of water for 2-3 minutes. When tender, drain and chop. Cut paneer into 1-inch cubes. Heat 2 inches of oil in deep heavy pan. Fry cubes of paneer in batches, turning over once or twice, until they are light brown. Remove the paneer with a slotted spoon. Drain on paper towels. In a large skillet, melt the butter with 1 Tbsp. of oil over medium heat and cook the onion until beginning to turn brown. Add cumin seeds and garlic and cook for 2 minutes. Add ginger, spinach, red and black pepper and salt and turmeric, then stir well. Add paneer and simmer, covered, for 10 minutes. Serve hot.
PANEER HOMEMADE CHEESE
(Prep time: 10 minutes)
Paneer is used in a variety of Indian dishes. This is the basic recipe. In most Indian homes a muslin cloth is used for draining out the excess water, but you can use a sieve.
4 cups milk
3 Tbsp. yogurt OR 1 Tbsp. vinegar OR the juice of 1 lemon
Heat the milk in a saucepan, stirring until it boils. Add the yogurt, vinegar or lemon juice and stir over medium heat until the mixture curdles. (This takes 2-3 minutes.) If it doesn't curdle, add a little more yogurt, vinegar or lemon juice. Remove the pan from heat and drain the mixture through a sieve. Press down gently with a spoon to make a flat, solid mass of cheese. The sieve should preferably have a flat bottom. Leave the cheese to cool for 2 hours. It should be fairly solid, but you should be able to cut it.
ASHA'S CHAI
From her book, My Two Souths, Blending Flavors of India and a Southern Kitchen by Asha Gomez
2 cups whole milk
8 green cardamom pods, crushed
1/4 t freshly grated nutmeg
1/2 t ginger powder
4 T black Assam tea leaves
In a 2-quart pot over very low heat, heat the milk and 2 cups of water with the cardamom, nutmeg and ginger until the liquid is infused with the spices (about 20 minutes). Add the leaves, and simmer for 1 minute over high heat, keeping a close eye to make sure all does not boil over. Remove the tea from the heat and let the tea leaves steep for 3 to 4 minutes. Strain and serve piping hot.
Assam tea is black, full bodied tea produced in the Assam region in India—it lies on either side of the Brahmaputra river, which borders Bangladesh and Burma. This tea is known for its strong, bright color and distinctive brisk, malty flavor. Many teas sold as "breakfast tea" contain Assam tea.
For a little more reading, Charlie recommends this memoir (that features even more recipes just like these):
Climbing the Mango Trees
By Madhur Jaffery (7x James Beard Award-winning cookbook)
This was a incredibly insightful memoir of a girls life in India. She grows up in a privileged, cosmopolitan home with extended family from Kanpur to Delhi during the British uprising. Food takes center stage, as it prompts her memories from a time long ago.
Enjoy, Charlie