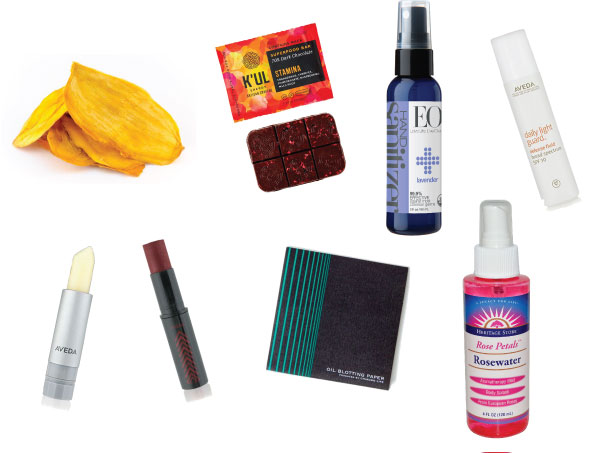 With summer in full swing and the ultimate lake holiday fast approaching, having your summertime essentials close and on-hand is a must. From snacks to beauty products, we've got you covered with the only list you'll need to have you feeling fresh, prepared and lake ready all day long.
Whether you're on the go, running errands or out on the lake enjoying your weekend, snacks are a must. Well, at least for us! They're perfect to tide over hunger between meals and share with friends (always a crowd pleaser).
The best on-the-go snacks are easy, not messy and sharable. The two that top our list are dried mango and k'ul 'stamina' bars. The mango is a guilt free source of sweet and rich in enzymes and vitamins A, C, E and B-complex and is said to help with clearing skin. The k'ul 'stamina' bars are amazing because, as they say on the package, it's "chocolate that's good for you." These bars include cranberries, cherries, pomegranate, raspberries and maca powder. They will pick you up when you need a little push of energy. They're also vegan, gluten free, soy free and dairy free, which is an added bonus because literally anyone can eat them! Also don't forget to load up on water! Water! Water!
When it comes to beauty products, it's very important to have a few favorites that get the job done. A "to-go" bag doesn't have room for three shades of lipstick (incase you decide to change it up mid-day), or your entire makeup counter for that matter. Plus, if you're in the sun, you really don't want your entire makeup supply to melt and leave you with a dripping bag of what could have been. Instead, opt for 6 simple products to get you through the day every single time. 
These little extras to throw in your bag will have you lake ready, with every situation covered so you can relax knowing that you're all set. 
From the Juut Salonspa team, we wish you an amazing and safe fourth of July weekend!


written by Coco Wagner, Social Media Specialist & Artistic Director