At JUUT, we believe that giving is so much more fun than receiving. That being said, picking out that perfect something for those around you can be a little tricky, and we're here to help! From mothers to brothers to teachers, we have you covered. 
Your Best Friend

Neocell Collagen 
Neocell Collagen is the perfect addition to their morning coffee, or added to a smoothie. We love that it strengthens hair and nails while being non-GMO as well as Gluten Free!
Fur Oil Concentrate 
Fur Oil Concentrate helps to eliminate and soothe ingrown hairs from shaving or waxing. We love this product and always keep a bottle on our top shelf. 
Facial Roller 
Facial rollers are one of our favorite facial tools and if your friend does not have one yet, they will thank you for this one. Facial rollers help with lymphatic drainage, increasing elasticity in the skin as well as increasing blood flow, resulting in a natural glow. 
A Manicure
A manicure can go a long way, at JUUT we work to create a luxurious and effective service that your bestie is sure to love! Sometimes experiences can be even more fun than gifting traditional gifts!
---
Your Mother 
Aveda Hand Relief 
Aveda's Hand Relief is a cult classic for a reason. If your mother is not already in love with it, she's about to be. The perfect winter product and it comes in a travel size so she can take it on the go!
Crystal Water Bottle 
For the cool mom, whether she's into crystal energy or just likes the way they look. This water bottle is chic, perfectly weighted and oh so fun to drink from.
Aveda Air Control 
Aveda's Air Control is another cult classic. We love this hairspray for a light hold, especially if she's trying to amp up her hair game for the new year!
A Massage
For those that give to us, we love to give back. What better way to treat your mother than a well-deserved massage? We recommend a 90 minute massage with one of our expert Massage Therapists!
---
Your Mother-in-law
Aveda Beautifying Radiance Polish 
Give the gift of luxury! The Aveda Beautifying Radiance Polish elevates any shower routine and is the perfect gift for the Mother-in-law that takes her skincare seriously, or wants to.
Foreo Cleansing Device
The Foreo Cleansing Device is a staple for us at JUUT. The Foreo provides an at home facial at your fingertips by gently exfoliating and leaving you with soft, glowing skin.
Limited Edition Aveda Paddle Brush 
If she already has the Aveda classic Paddle Brush or just loves a little extra fun, we think the Phillip Lim designed brush is fabulous! 
Her favorite Aveda Hair Masque
Hair Masques are amazing as a self care practice and wonderful for maintaining healthy hair. Two birds, one stone? Yes please! We recommend the Botanical Repair Intensive Strengthening Masque which comes in Light or Rich depending on her hair type. 
---
Your Brother or Father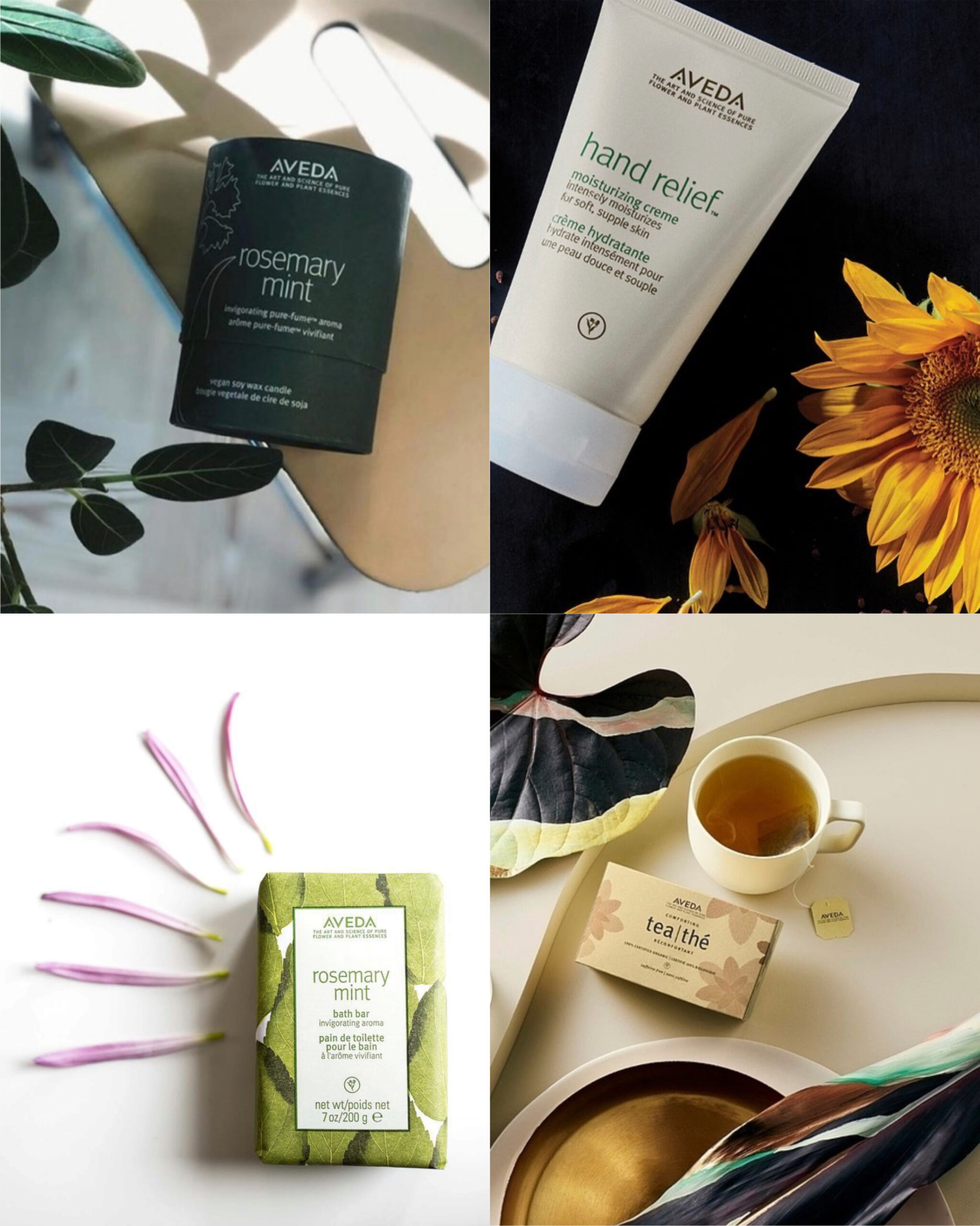 Aveda's Rosemary Mint Candle
Never underestimate the power of a good candle. They'll be thinking of you for months to come when they use it, not to mention every time a friend compliments how amazing their home smells!
Aveda Hand Relief 
Aveda's hand relief is the gift the keeps on giving. Whether he needs a self care moment or just needs a little extra moisture during the winter months, a great hand lotion goes a long way.
Rosemary Mint Bath Bar
Elevate his bath bar, for either his bathroom sink or for the shower. Rosemary Mint is a crowd pleaser with it's invigorating, natural scent that will have them feeling and smelling fresh. 
Aveda Comforting Tea
Comforting tea for the tea lovers in your life is a perfect gift, and something they might not buy for themselves! Aveda's blend is nurturing with a hint of sweetness that is perfect hot during the winter or chilled in the summer. It's an absolute year round staple for us.
---
Your Sister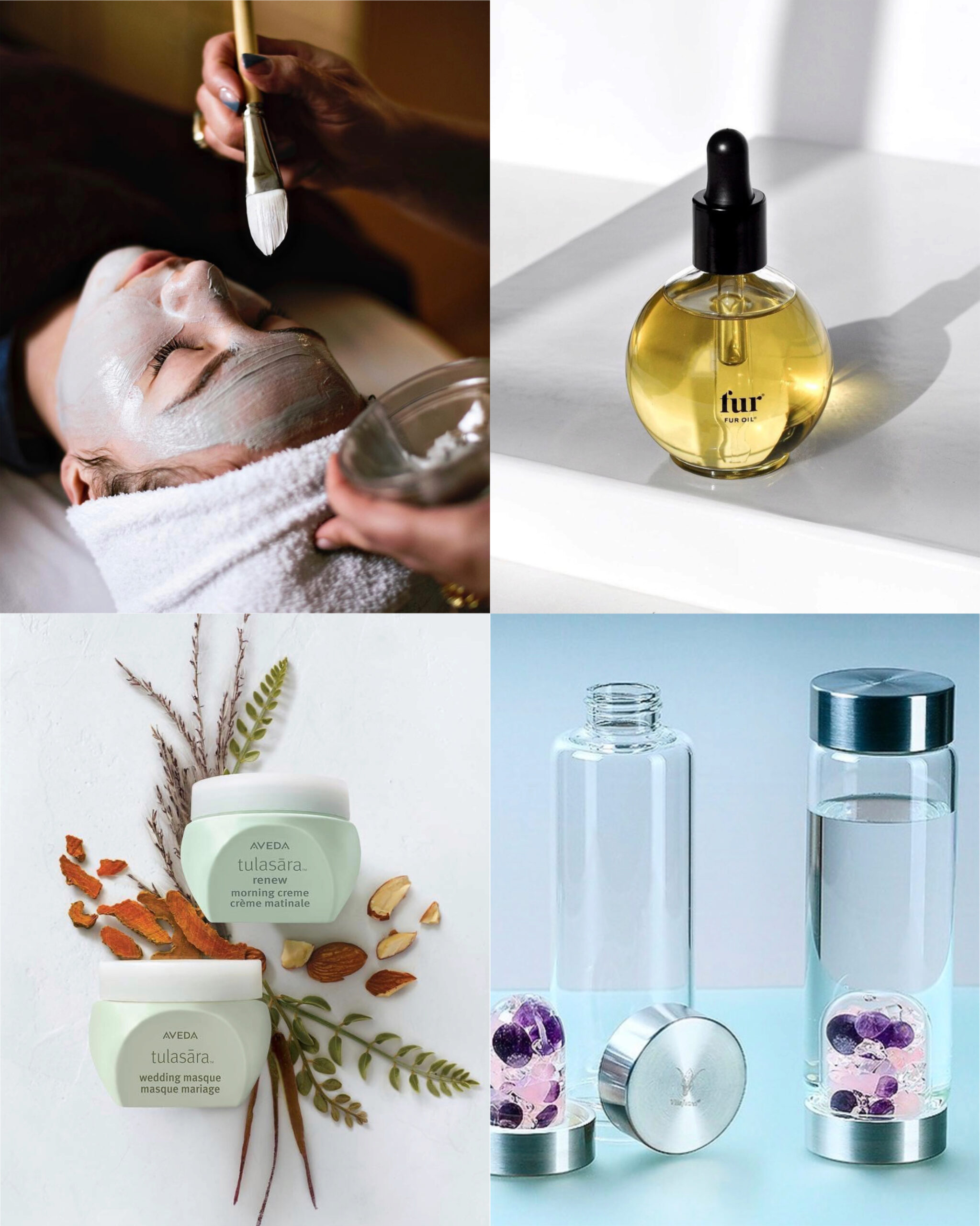 A Facial 
When was the last time your sister treated herself to a facial? Winter is the perfect time to share the gift of glowing skin, and help her boost her skincare routine. We love gifting experiences like a pampering afternoon for a well deserved loved one! At JUUT we offer a variety of facials, from a nourishing Aveda service to Dermaplane and Peels, we've got you covered.
Fur Oil
Our holy grail of post-wax or post-shave skincare. Fur oil is absolute magic and know you'll love it too. A blend of natural oils, that soothes and prevents ingrowns AND women made? It doesn't get better than this. We adore how luxurious this product is from the packaging, to the scent to the application, we're in love.
Tulasāra Cream and Masque
Speaking of luxurious, the Aveda tulasāra line is absolute magic. Crafted to restore, refresh and brighten. The Renewing Radiance Cream and Firming Sleeping Masque promote glowing healthy skin and will elevate any skincare routine. 
Crystal Water Bottle
A crystal water bottle is such a fun gift to give, not only for its sustainability but also for its sparkle! Your sister will be the coolest one at the office or her workout with this unique bottle that promotes wellness.
---
The Teenager in your life

Limited Edition Aveda Scrunchie Set
Who doesn't love a scrunchie? We love that they're back and better than ever, especially this set from Aveda's collaboration with Phillip Lim! Perfect for teens and friends that love the 80's, these gorgeous hair accessories are such a fabulous gift 
Their first Paddle Brush 
A paddle brush is great for creating smooth, straight styles. We love that this brush is made of wood and looks so timeless while also being great for detangling and scalp health!
Patchology Face Masks
Patchology face masks are incredible and come with such fun packaging! We love that there is a variety in masks to address different needs, from full face masks to eye gels and lip treatments! 
Aveda Holiday Lip Gloss Set
We love this lipgloss set for someone that is just starting to play with makeup, but it's also a great gift for the older teen that loves a little extra shine. An easy staple to keep in their bag or locker at school for that extra boost of glow, while being subtle and luxurious.
---
Teachers
Leela Hand Sanitizer
Hand sanitizer has become crucial in our lives, especially if you work in a public space like a school. We love gifting Leela Hand Sanitizer because it is all natural, smells incredible and does not dry out your hands.
Aveda Hand Relief
Aveda's Hand Relief goes a long way when we're washing our hands as often as we have been. Nourishing and calming, any teacher in your life will keep this on their desk for daily use. 
Aveda Stress Fix
Let's be honest, teachers have been absolute heroes especially through a global pandemic. We'd love to give them a little stress relief and we think Aveda's Stress Fix Concentrate oil is perfect. In a handy roll-on this is a great product that they can keep in their desk and roll on when they need a moment of self care during their day.
Aveda Comforting Tea
For the teacher that loves tea or needs a caffeine free option during their day. Aveda's Comforting Tea is nurturing with a hint of sweetness from licorice root. It's a great tea to bring into work or look forward to at home after a long day at school!
---
Yourself
Foreo Cleansing Device 
Whew, you've been treating everyone you love and we love that! If you needed a sign to treat yourself too and  invest in your new favorite skincare device this is it. We love the Foreo for elevating your at home skincare routine or keeping in your gym bag to use immediately after a big workout and prevent breakouts. 
Patchology Eye Gels
We absolutely love these eye gels, they're cooling, effective and so cute! An easy grab and go item, these are perfect for an at home spa night, when you're late and need a pick me up (no one will know that you popped these on during your drive to work), or for a perfect self care Sunday morning.
Limited Edition Aveda Paddle Brush 
We could all use a little pop of color in our lives and why not with a cult favorite product that just got better? The paddle brush has stood the test of time and is an absolute JUUT staple, and while we adore the original, we have to admit the Phillip Lim design on this one might be our favorite. 
A Luxury Blowout 
Whether you're going out to a fun dinner or having a movie night with your pets, a blowout is always a good idea. A luxury blowout at JUUT includes heat tools and creates a dynamic, gorgeous look. If you prefer we also offer a classic blowout to create that dreamy look we can never seem to create on our own heads. There's just something about walking out of the salon with a fresh blowout knowing that you look and FEEL great … and that's priceless. 
All products and services mentioned available at JUUT Salonspa, or purchase Aveda product online by choosing your home JUUT location below!
*Spa services only available at JUUT Salonspas in Minnesota