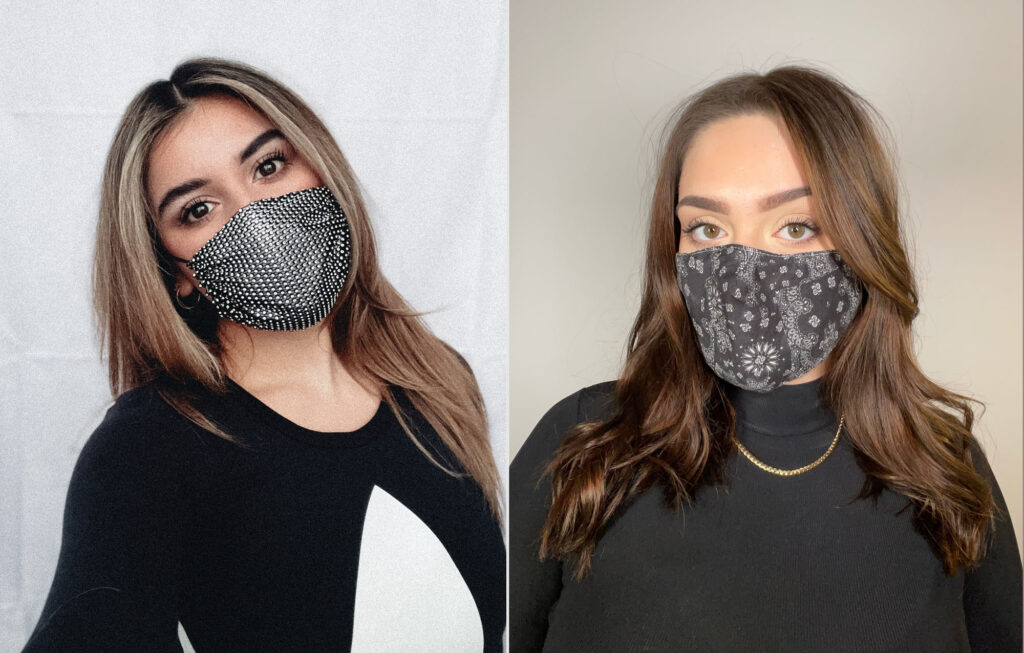 We can't deny it any longer – face masks are here to stay (at least for a little while). So our big questions: How do you care for your skin and share your personality when most of your face is covered? We've reached out to the experts for their tips on keeping skin happy and makeup fun while masking.
Advice from Maria Livingood, Master Colorist & Makeup Artist at Juut Salonspa in Roseville
Break-up with your face makeup (at least temporarily)! Avoid wearing face makeup, like foundation, when you have to wear your mask for long periods of time," said Maria Livingood, Makeup Artist & Colorist at Juut Salonspa in Roseville.
"Instead, focus on what you can see while wearing a mask – your eyes and your brows!"
Maria recommends drawing attention to one of your most unique accessories – your eyes! "Bolden your brows and accentuate your lashes."
Tips from Fiori Aleman, Studio Esthetician at Juut Salonspa in Wayzata
To perfect your brows, Juut Wayzata Studio Esthetician Fiori Alman recommends using the Aveda pencil, Billion Dollar Brow Universal Pencil, or (her favorite!) Brow Butters, along with the clear brow gel for an all day hold. As a final step she suggests using a little concealer to create a crisp line, and brow gel to fluff up the brow.
We love Billion Dollar Brows Universal Brow Pencil (works on all skin tones) for bold brows and the combination of Aveda's Mosscara with RapidLash Lash Serum for long lashes.
Makeup with Madysen Heil, Makeup Artist & Assistant Salon Manager at Juut Salonspa in St. Paul
"For those who aren't interested in going foundation free, it's important to set your creams with translucent powder to lock in your look for longevity," said Madysen Heil, Makeup Artist at Juut
Salonspa in St Paul. "Use as little foundation/concealer as possible and blot after application so no product transfers."
One of our favorite ways to keep the face looking fresh is with highlighter.
"Apply bronzer or blush above your cheekbones – higher than normal," said Madysen. "This will give your skin a visible glow, even while wearing your face mask."
And finally, once you're ready to remove your mask for the day, make sure you take the time to remove your makeup. Avoid using harsh exfoliants or thick creams to give your skin a break and allow it to breath.
Whether you're going to the office or out for a socially distanced happy hour we hope these tips encourage you to be creative with your makeup and facial features while masking.