Men's fashion this summer has been less about fashion and trend and more about personal style; fashion is fleeting while style is permanent.  The idea is to look great rather than of the moment.  Men are thinking about clothing and hair and they are using it to express their personality, whether they are a corporate executive, an artist or a skilled tradesman. This has been true on the coasts for some time and is finally working its way into the Midwest. Truly creative individuals can reference trend and work it into their already established personal style.
If you are like most of us, you are wondering how we got to September so quickly.  Thanks to our bizarre spring, this summer has flown by particularly fast.  It's hardly possible to start the shift from summer-wear to fall/winter just yet.  Our plan is to take summer as far into the upcoming fall season as we possibly can. What summer trends can carry into the fall? Let's start with color …
Color
As told in Esquire's Big Black Book 2011, there are "12 unexpected colors that every man should keep in his arsenal."  Six of these colors are strongly suited for summer while the other half can easily be transferred from season to season. Read on for the transferable six.
Details
The devil is in the details.  The most conservative suit paired with the right accessories make pieces distinct to our character.  If you are like many men, you have your staples – whether it's denim, a suit, or a shirt.  We tend to find something that works for us and then buy six of the same thing.  Two years pass, then we buy six more.  Lots of us love this practice but the challenge is to stay current.  How do we continue to make the look reflect our lifestyle as life evolves? A collection of classic hats, ties, shoes, glasses and belt buckles can transform a look.  With these items, the number of variations you could create with an article of clothing is limitless.  By sticking with classic shapes, colors, and designs, there's a lifetime of possibilities.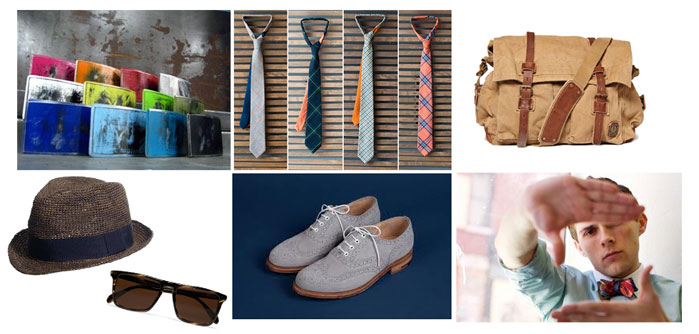 Hats: Straw is better suited to warmer months but if you aren't ready to switch to felt, find at least one dark brown straw hat for more seasonal versatility.
Belt Buckles: One word – color. Spruce it up with something a little jazzier than the standard metals.
Glasses: If you really want to catch the spirit of the natural material, Retrospecs has a series of horn frames.  They add a little extra to your wardrobe.
Ties: Narrow or wide?  Either works but pay attention to your lapel!  The widths of the tie and lapel should be within ½ inch at their widest parts.
Bow Ties: Yes!  But try it casually.  Mix patterns and dress them down. We recommend wearing a bow tie with work style boots and a wallet chain. We strongly suggest checking out Minnesota based Pierrepont Hicks handmade ties.
Canvas Duffle: It doesn't have to be a designer brand – check out Filson or L.L. Bean.
Shoes: Wing Tips.  They are like the bow tie, no longer reserved for the corporate banker type. Dress the more conservative styles down.  Many designers are producing variations of the wing tips that are far from conservative.
Mix up your personal style with a little bit of trend. Don't be afraid to expand your limits as the seasons change – never worn sun yellow or tried a bow tie? Give it a shot as we jump into fall.

Hair
If you want to introduce trend into your haircut, do so on top. Currently, trend is groomed and clean, while hair is long enough to be styled and versatile.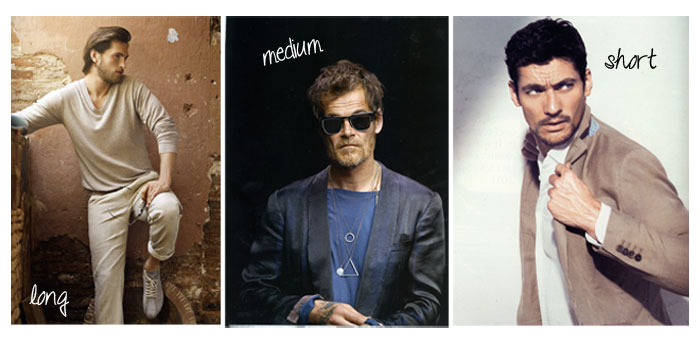 The easiest way to introduce trend into the most basic haircut is by incorporating any variation of the pompadour. While it's true that the pompadour is always cool, this season more than any other in the past 10 years, the pompadour is all over men's fashion. The really spectacular thing is that it has less to do with the actual cut and more to do with how you style it right out of the shower.
Styling the Pompadour
After washing your hair, lightly towel dry and apply Aveda Men's Firm Hold Gel.  Immediately set the desired shape of the pompadour.   Letting your hair air dry is certainly an option but you have to make sure you don't disturb the shape until your hair is completely dry.  With the firm hold gel, this could take a while and it could be challenging to keep the integrity of the shape.  If you choose to speed up the process with a blow dryer, use the high heat and low speed settings.  Hold the dryer far enough away from your head so you don't disrupt the shape with the air flow.  Once your hair is dry, use your hands to break up the crunch of the gel.  At this point you have the option of using the Men's Grooming Cream, clay or pomade, to add varying degrees of texture and shine. There are a million variations of the pompadour and it can range from subtle to extravagant – so choose a style that fits your personality.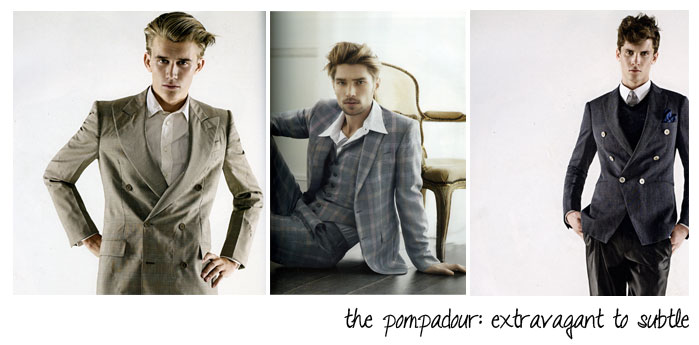 September might be here, but that doesn't mean we have to leave summer behind.  Join us in the quest to squeeze every bit out of this season and its wardrobe!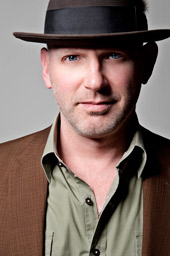 Men's Fall Fashion author, Anthony Lickteig, is a Master Stylist at our Downtown location. He specializes in women's hairstyles of all lengths and textures, and has been creating amazing hairstyles since 1998. While he has extensive training and experience on the current hair trends in women's styles, he is also specifically trained in creating men's hairstyles. As Juut's Men's Specialist, Anthony is responsible for the development of men's curriculum and has trained scores of stylists in advanced cutting techniques. He is also responsible for men's seasonal trend work. Learn more by following Anthony on Twitter (@anthony_juutmen) or by checking out his profile page.
SOURCES: Color Photos (Esquire Magazine)  |  Straw Hat (fashionbeans.com)  |  Colored Belt Buckles (fosterweld.com)  |  Tortoise Sunglasses (mrporter.com)  |  Ties (uschiandkay.com)  | Bow Ties (beyondfabric.com)  |  Canvas Duffle (mrporter.com)  |  Wing Tip Shoes (clothesbeforehoes.com)  |  Short, Medium, Long Hair Photos (Vogue Magazine)  |  Pompadour Photos (GQ + Vogue Magazine)