GLASS NOODLES
By Charlie Wagner, Director of Wellness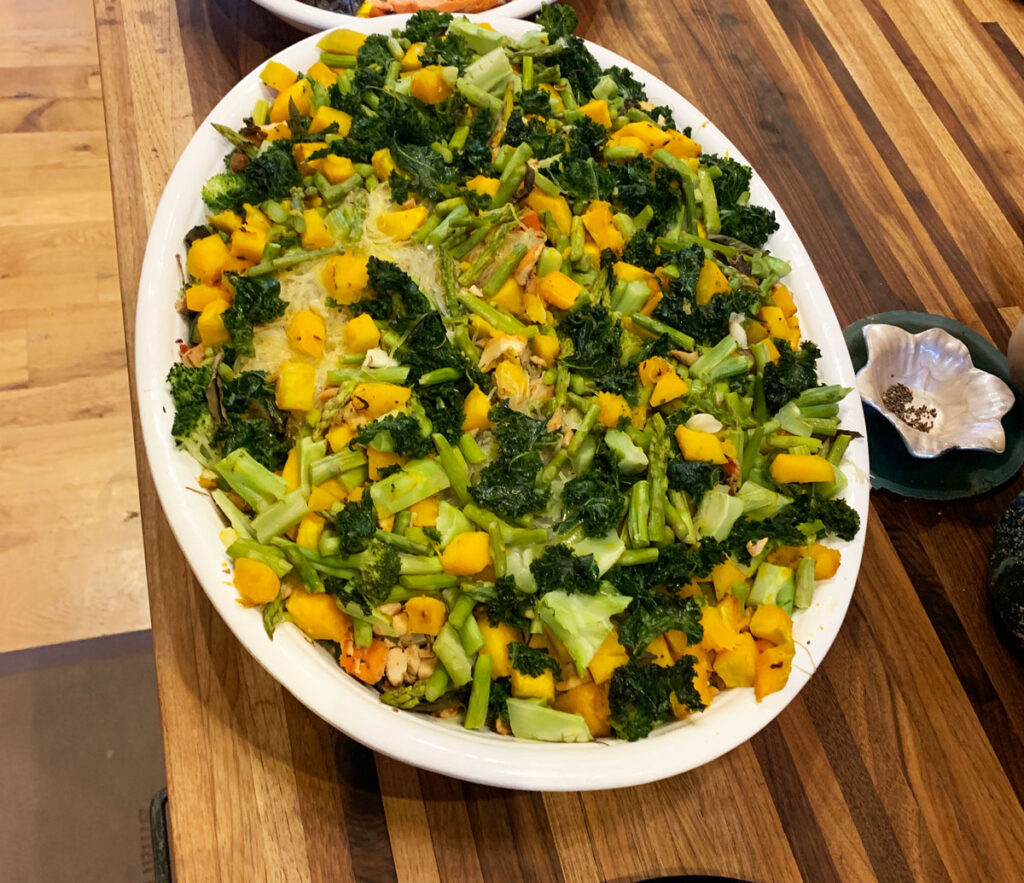 Tools needed: 1 or 2 sauté pans (I prefer to use 2)
Ingredients:
Mung bean noodles (glass noodles; one bunch per person)
1/8 c cooking sake
1/8 c white wine
up to 3T coconut aminos, braggs or soy sauce (this measurement is for 4 bunches of mung bean noodles)
2-3T mirin
2T sesame oil or sunflower oil
3T grated ginger
egg (one per person)
tofu (cut & press to get all liquid out – optional)
1/2 t salt
pepper to taste
1/2 c to 1 c squash (bite size pieces; not necessary to cut skin off if washed well)
1/4 – 1/2 c carrots
1/4 – 1/2 c broccoli
1/4 – 1/2 c greens
1/4 – 1/2 c cabbage
For garnish (or on the side to taste)
cilantro
parsley
hot sauce
lime wedge
Directions:
Add 2 cups of Dashi broth or water in a saucepan. Once boiling, add noodles for 1-2 minutes until translucent. Strain and transfer to a bowl. Season noodles with your coconut aminos/braggs/soysauce (to taste), sake and / or mirin. Set aside.
In a skillet, turn on low heat and add oil and ginger. Add in eggs and scramble. Set aside. In a cast iron pan, add ginger, pepper, salt and 2T oil. Begin to sauté your squash, carrots and broccoli. Cook for about 7-10 minutes until soft. Add greens, cabbage and 1/2 cup of water before covering with a lid to steam until soft. Stir in eggs.
In a different skillet add a bit of sesame oil, ginger and sauté noodles for 1 – 2 minutes (this step is when they turn to glass). Stir into veggies with eggs mixture.
That's it! Garnish with cilantro or parsley and a lime wedge, serve with hot sauce on the side and enjoy!