JAPANESE DASHI SOUP
by Charlie Wagner, Director of Wellness
(You can make this a fish or vegetarian soup.)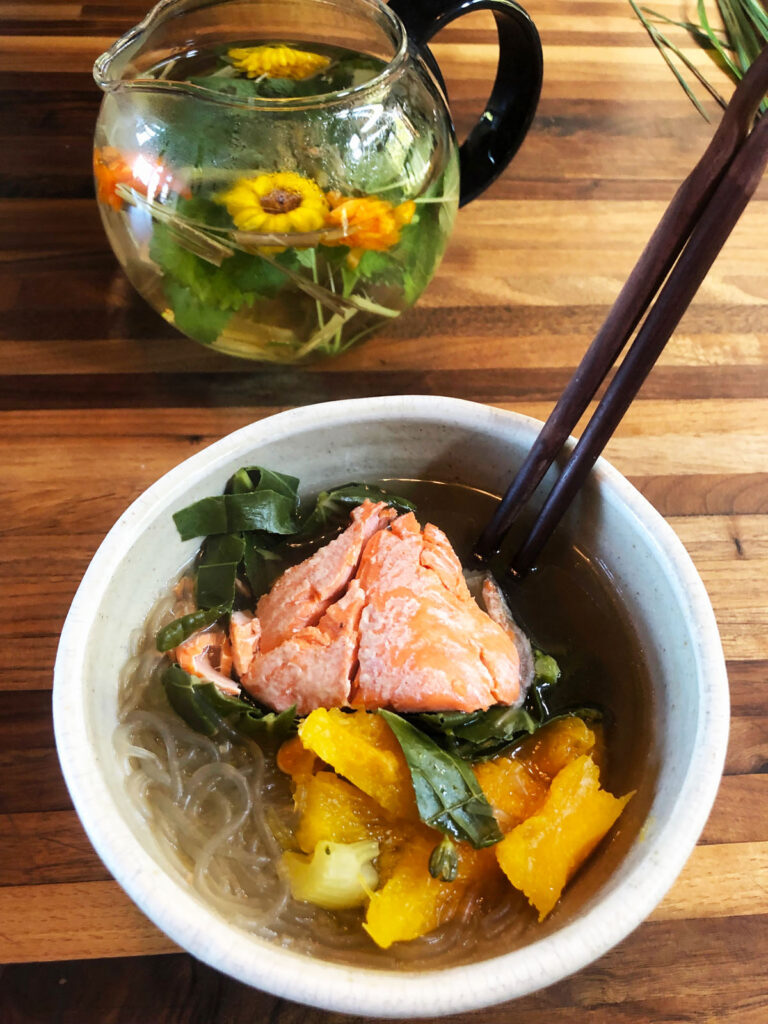 Tools needed: Pressure cooker, instant-pot or a pan.
Ingredients:
6 cups water
1/2 bag of kombu seaweed
1/2 bag bonito flakes
mushrooms (optional)
2 bunches mung bean noodles
1 cup squash in 1/2 inch cubes (kabocha/butternut/acorn)
greens (collards, broccoli – add as little or much as you like)
small piece of fish / tofu (4 ounces per person)
2-3 Tbsp white miso
Dashi broth:
First add your water to the pan and top with kombu seaweed and bonito flakes. Cook for 8 minutes in a pressure cooker or 25 minutes in a normal pan. Follow by straining out the solids.
Soup:
Take 2 cups of dashi broth and add mung bean noodles. Cook for 1-2 minutes, strain and pour remaining liquid (the dashi broth) back into the main pot. Add your squash, greens, mushrooms and protein (fish or tofu) and pressure cook for 4-8 minutes depending on how dense the protein is. For example, I will often have a piece of frozen fish on hand then I cook for 8 minutes. If it is fresh tofu, then I cook for 4-6minutes (if using a normal pot for 10- 15 minutes). If you use a pressure cooker, you can do a quick release when finished by putting the pot under cold water before releasing the pressure. Finish by stirring in miso to taste and serve!