Between al fresco dinners and beach nights, our calendar invites are gearing up to be full of summer fun—and we're already planning our makeup looks. We sat down with Angela Thein, Aveda Advisor at our Roseville location, and Rachael Armstrong, Aveda Advisor at Gaviidae – Downtown, to get their insight on what's trending for summer, and get the scoop on their favorite Aveda Feed My Lips pairings. Read on for all the details!
BUT FIRST, SKIN CARE
A well-prepped canvas is essential to any artist—makeup and fine art alike. Whether you put on a full-face daily or typically go all natural, proper skin care is essential to achieving a round-the-clock healthy, hydrated glow. Keeping your skin hydrated and protected from the sun makes the skin balanced, damage-free and helps with the aging process of the skin. (Extra moisture helps with fine lines and wrinkles.) We love the Aveda Tulasara Wedding Masque Eye Overnight and Daily Light Guard for these very purposes—to have luminous, balanced skin, no matter the season.

In case you didn't already know, your eye area is where we age the fastest—and the earlier you start wearing an eye cream, the better. For glowy, wedding-day eyes every single morning, try Tulasara Wedding Masque Eye Overnight. The blend of algae extracts, licorice root extract and molasses extract diminishes the appearance of dark circles and firms skin over time.

Sunscreen is crucial to your skin care routine. (Especially in this summer heat, but more importantly, all year round.) We'd recommend Daily Light Guard, a light sunscreen with an SPF of 30. Made with mineral-derived sunscreen technology, this non-acnegenic, weightless defense protects against the elements and free radicals that damage skin.
ACHIEVE THE LOOK OF THE SEASON

After your skin care routine, your clean canvas is ready for your makeup look. This season, it's all about keeping things natural (like a touch of bronzer and Petal Essence Illumination for a touch-of-sun look) with a bold lip. In other words, only one rule applies: less is more.
Start off with your sunscreen. (Like Daily Light Guard!) Getting in the habit of applying your sunscreen before anything else ensures that you'll never forget it (because yes—it's that necessary). Then, a tinted moisturizer with some translucent powder not only sets the makeup, but it keeps things natural and light for those inevitably sweaty days. Add a bit of Uruku Bronzer for a sun-kissed glow, or use a peach-toned blush to give a flushed (but totally fab) feel. Add highlights where the sun is bound to give you an extra boost (like the apples of your cheeks, bridge of your nose and under the brow bone), then swipe on Aveda Mosscara to seal in the look.
To finish, top the look off with Feed My Lips.
WHERE TO WEAR

Every occasion can be celebrated with a little bit of lipstick. As Angela's mom always said—your outfit is never complete without it. (Which is probably where she gets her love of lipstick from.) Ahead, we've outlined some of our favorite colors to pair up with some of your favorite calendar invites.
A day of shopping: Kimi Fig—the perfect pinky nude lipstick practically made for those days of leisure.
A night on the town: Passion Fruit—it's equal parts fun and flirty. (A great recipe for a night out, if you ask us.)
A concert: No matter the genre, try Honey Ginger. Pair this neutral with a sultry eye for your next ticketed event.
A day in the office: Sutra—simply a staple color for anything in your wardrobe.
When the occasion calls for a red lip: Goji, Cana and Jujube are three excellent reds—because you can't ever go wrong with a classic.
THE PERFECT HAIR & LIP COLOR PAIRINGS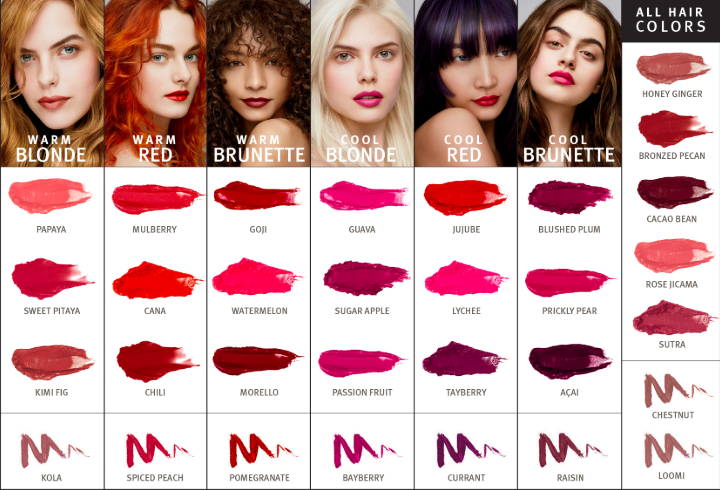 When it comes to hair and lip colors, it's all about complementing tones. This means that warmer hair colors work well with warmer lip colors—and the same goes for cooler tones, too. Below, we've outlined our favorite pairings for blondes to redheads, and cool to warm hues.
Blondes: We'd recommend Sweet Pitaya—a contrasting red great for everyday wear.
Brunettes: A deeper lipstick on brunettes makes hair color pop—like Blush Plum.
Reds: To make your red stand out, pair it with Mulberry, a warm pink.
Cool Tones: Dubbed a salon favorite, Jujube is a classic red lip that complements the coolness found in some blondes and brunettes, thanks to the cool pink tones found in the color.
Warm Tones: Cana is a staple red with fiery orange tones—an excellent choice for anyone with a warmer hair hue.
Whether you need help perfecting your skin regimen or need help finding your signature lip color, as the best salons in Minneapolis, Scottsdale, Tempe and Palo Alto, we're here to help. Give us a call or book online.